Curriculum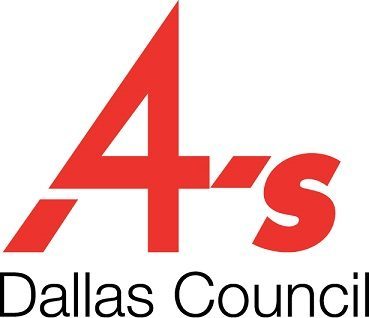 2019 INSTITUTE FOR ADVANCED ADVERTISING STUDIES
ALL SESSIONS BEGIN AT 6:30 PM
SESSION 1 — Wednesday, February 6 4A's IAAS Introduction. Teams & Teaming. Logistics.The first session of the Institute of Advanced Advertising Studies will focus on introducing you to your Institute colleagues and to the intensive 12-week program. Team assignments take place immediately. First assignments will include team naming and profile building to present to the client the following week. Initial client case study research begins.
— Peter Noble, Director, 4A's Dallas Council IAAS : Location: Temerlin Advertising Institute, SMU – Umphrey Lee (Suite # TBD)
SESSION 2 — Wednesday, February 13   First Date. Client Introduction. Their Problem. Your Team.This session brings a senior executive of the Client to the Institute to review the brand, the problem and the directive. This is a live RFP for IAAS teams.
Frisco RoughRiders Executives Location: Frisco RoughRiders Stadium
SESSION 3 — Wednesday, February 20   Client. Product. Category. Consumers. Data. Where to Begin? Where does an agency begin to build a new business pitch? What are all the pieces to consider? How will you find them? How Will You Plan to Engage?  Knowing their touch points and preferences is only the beginning. How do you leverage all that you know with all the possible connections between brand and consumers? How will you engage them, move them through the stages of the consumer journey, and manage the customer relationship to keep them engaged post-purchase? And in today's consumer landscape, how do you do all that in a digital time frame?
—Faculty: David Hadeler, Brand Development Location: The Loomis Agency
SESSION 4 — Wednesday, February 27  Distracted, Jaded, Rushed. Can We Really Get to Consumer Understanding?  Today's consumers offer far more challenges than at any time in business history. They are distracted, jaded, rushed, while simultaneously demanding, and in need of true human interaction. Simple mall intercept surveys and focus groups aren't enough to gain consumer insights anymore. This session covers the latest methods and tools used for learning about consumers, their relationships with your client's brand and the product category as a whole.
Faculty: Alice Kendrick, PhD – Professor of Advertising, Temerlin Institute of Advertising
Location: Temerlin Advertising Institute, SMU – Umphrey Lee (Suite # TBD)
SESSION 5 — Wednesday, March 6   Reams of Data. One Page. Writing Creative Briefs That Inspire Extraordinary Ideas.
Now that you know critical information about your client's potential consumers, how do focus in on that critical insight and voice that will resonate while delivering critical information? Poorly crafted Creative Briefs are strangleholds on creative solutions. Creative Briefs crafted with strategic product/brand vision and finely-honed consumer insights are launch pads for creative brilliance. This is part lecture and part work session to lead you through creating a creative brief that frames and inspires instead of stifling.
—Faculty: CoreyGreen, Brand Planning Group Head
– Location: The Richards Group Location: The Richards Group
SESSION 6 — Wednesday, March 13  The Holy Grail. Brilliant Creative. Brands live and die by the creative blade. How do you get to those ideas that surprise, delight, engage and stay strong throughout the life of a campaign? How do you know the difference between low concept work that's derivative of everything else and high concept, strategically sound creative that changes the game for entire product categories and for our industry?
— Faculty: TBD
—Location: TracyLocke
SESSION 7 — Wednesday, March 20   Testing Fields. Client Strategy Meetings. A Client senior executivereturns to the Institute.This session will lead students through a true client meeting, including a strategy presentation designed to get feedback from the client and a true check on direction of each team's work.
— Frisco RoughRiders – Andy Milovich, President/General Manger, Scott Burchett, Chief Operating Officer, Jennifer Johnson, Marketing Director,
— Location: Frisco RoughRiders Offices
SESSION 8 — Wednesday, March 27  Above the Line. Below the Line.Connecting the Inter-Webs of Complex Media Options. 
Your clients have engaged followers on social media and their brand awareness is at an all-time high, but they still haven't seen an increase in e-commerce sales. How can you leverage their social media engagement to increase sales? This session focuses on successfully integrating Search, Social Media, Owned Media and PR to create digital conversions. Showing Up Isn't Enough. Social Media Presence Versus True Engagement. This session focuses on understanding and creating content for consumer engagement that goes beyond surface social touch points. Digital is a critical piece, but all brand moments must weave together to create holistic ecosystems in which brands and consumers live and thrive together.
—Faculty: Brad McCormick, 10 Louder Strategies
—Location: Moroch (5thfloor conference)
SESSION 9 — Wednesday, April 3   ROI, Meaningful Metrics and Data Mining: Can There Be Too Much Data?  Today's media has made it possible for agencies and their clients to measure nearly every imaginable impression, interaction and conversion that takes place in the digital arena. But with access to these incredibly rich, real time analytics, how do you determine which metrics are meaningful to your clients and how can you use them to measure the success of your campaigns?
— Faculty: Pending
—: Location: Pending
SESSION 10 — Wednesday, April 10  Don't Even Think About Selling. Tell A Truthful Story. Presentations with Heart.  The most successful presenters in the world—legends like Bill Westbrook and Alex Bogusky— agree that the best new business presentations come down to engaging in an honest conversation with the client. The best presentations don't sell, they tell relatable, human stories that show a true understanding of their brand, their industry and their goals. The clients are in the room to protect and promote their livelihood, their product(s), and to win their business. You first have to earn their trust.
— Faculty: Ashley Watson, Principal, Commerce House
—Location: Commerce House
SESSION 11 — Wednesday, April 17   The 11thHour. Critical Attention to Detail. Dress Rehearsal with Mentors. This week focuses on final, private mentoring sessions, close examination of work and rehearsals for final client presentations.
— Mentors, 4A's BOG Members, Others TBD
–  Location: Location: TBD
SESSION 12 — Wednesday, April 24  This is it!Twelve weeks of research, planning, writing, creative concepting, and strategy sessions with your prospective client culminate in your chance to "win" the business. The judges begin client deliberation and a graduation ceremony and dinner will follows, usually the following Friday. Winners will be announced, and students awarded certificates of completion as Fellows of the 4A's Institute of Advance Advertising Studies.
— Client Executives, 4A's Dallas Council Board of Governors Members, Invited Guests.
—Location:  TBD